News
Top 4 craziest Halloween items you did not know you needed!
by Jumily Jumily on Oct 12, 2021
"The farther we've gotten from the magic and mystery of our past, the more we've come to need Halloween" -Paula Guran
The word "Halloween" comes from All Hallows' Eve and means "hallowed evening." Many years ago, people dressed up as saints or ghosts and went around their neighborhood, which is the origin of Halloween costumes and trick-or-treating.
Halloween is a magical mixture of strange ingredients. Spooky decorations, friendly jack o' lanterns, people wearing terrifying masks, and binging Halloween movies, and cartoon classics like "It's the Great Pumpkin, Charlie Brown." Everyone seems to add something different to this mysterious cultural infusion that begins to bubble every October.
Did you know?
The origin of "trick-or-treating" dates back to All Souls' Day in England. People pray for their dead loved ones or relatives. They baked pastries which they called "soul cakes" and gave them to the poor and needy. Today, families buy sweets to please kids & commemorate the dead.
With Halloween just around the corner, store shelves will soon be covered in festive and mind-blowing holiday decorations. So brace yourself for some juicy Halloween items that you might be missing out on:
 1.Do not let something get under your skin, BE A SKELETON!!
Skulls, as Halloween symbols, can be found together or separate from skeletons. The skull symbolizes fear and death. It is a reminder of human mortality and the short time we have to live. These are an excellent way to spice up your holiday decorations because they add a lot of grimness to the atmosphere.
Everyone wants to steal the show with their over-the-top costumes. People wear make-up, face painting, and face masks that complement their spooky costumes. But believe it or not, but masks are one of the oldest traditions of this holiday.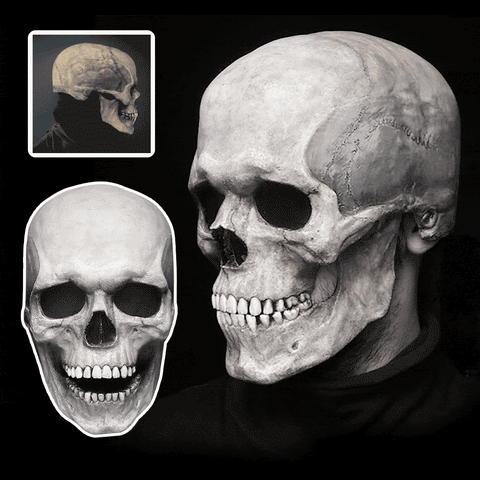 A skull is the universal sign of fright and terror. This spine-chilling 3-D skull mask is exactly what you need if you are looking for some spooky and savage outfit. Pair this with any dark costume, uplift your events' mood and increase the festivity of the atmosphere with this sinister mask!
This gothic full-head mask with movable jaws is one of its kind. This permits you to imitate the speech of the skull and makes you the most realistic skeleton in the dress-up party!!
2. If you got it, haunt it!
Costume parties are tons of fun. With the big night around the corner, you and your little ones are probably wondering what they want for Halloween, or maybe you've already thought about it since the previous one!
If you're looking to be the life of the party, you might be considering some funny costumes ideas to lighten the mood of the party.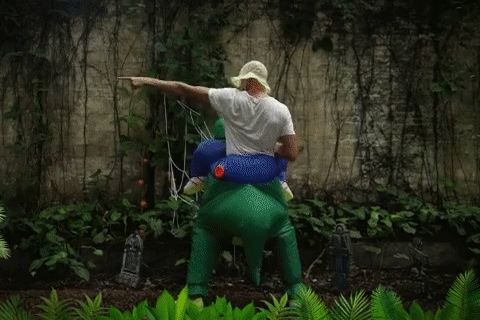 While everyone is busy trying to scare one another, grab your funky outfit and spread some contagious laughter all around. This T-REX inflatable costume suit for kids & adults is cute and eye-catching. It's perfect to add versatility and distinction to the party. The blower can be connected to a USB port for reflation. Don't run out of power and keep the party going!
Remind people to love themselves and get some hearty belly-laughs when you're in this 'punny' costume. Be on top of the food chain, release a giant roar and be the king of the prehistoric era!
Trick or treats?
3. 'Mummy' brats!
Although you might already have your costumes and decors planned, it's officially time to start setting the table with some scary, scrumptious snacks! Keep your hungry guests happy with some Halloween-themed snack bowls.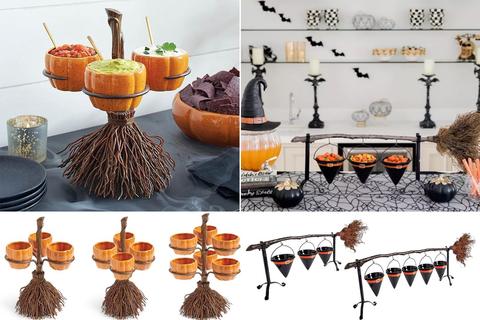 Work your witchery over a Halloween buffet with these adorable Halloween Broomstick Snack Bowl Stands. Transform your typical snack bowls into something that 'chips' into the ambiance of your Halloween party. Fashion the dip for your chips into the shape of a witch's hat! Yikes. These are perfect for casting a wickedly happy charm over your Halloween gathering.
There's a variety of sizes and you can choose yours according to your snack size or your preferences. These funky cones hanging from a witch's broom are a perfect way to spice up your snack time. Let people get impressed by the wonderfulness of your presentation.
This can serve as a multi-purpose decoration item. You can simply use the stand and put up a spooky welcome note like 'No trespass, we're tired of hiding the bodies', to warmly welcome your guests to your party of death!
4. Excuse me, witch broom?
What kind of Halloween party would it be without a whole bunch of snacks and candy? Serve your favorite treats in a way that stands out! Perfect for displaying the evil and happy charm at your Halloween party, this broomstick snack table is an excellent centerpiece for your table.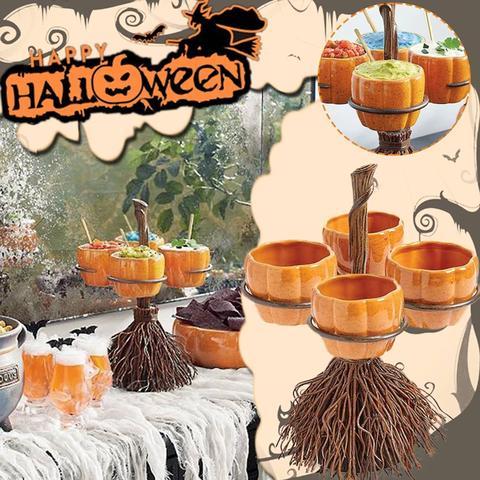 There's always room for dessert, In your stomach as well as on these Adorable 3-tier square Broomstick Snack Bowl Stands! Don't be afraid to get creative! From decorated cookies and candy corn creations to other cleverly crafted treats, you'll be sure to satisfy everyone's sweet tooth. This gives you a perfect opportunity to be creative and to throw a bash that everyone will be talking about. And don't forget to refill these as the night proceeds!
Guests will be thrilled to reach in for a treat. Bonus point: not will it just stand out itself, but the individual details of your snacks and their decorations will be visible and praised. So go in for some spooky decoration or some marshmallow or white chocolate treats with little ghost faces for a cuter option!
It's just a bunch of Hocus pocus!
There are many more indoor and outdoor Halloween decorations just waiting to scare, surprise, and delight trick-or-treaters and neighbors alike.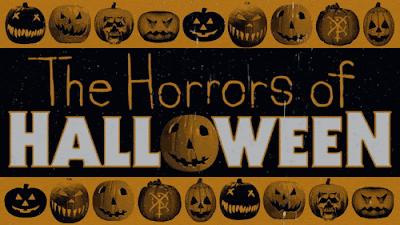 Click here to check them out! 
Whether you want to spend your Halloween night binging classical movies, attempting to sneak out candy, or dancing the night away in your best costume, let's hope you have fun and make the most out of it.
Eat, drink and be scary. Happy Hunting!
Written by: Rabia Yousaf