Product description
Shipping & Return
This is an open-box item.
At Jumily, all open-box items undergo a quality check and are guaranteed to be fully functioning, and in excellent condition. So you can have peace of mind knowing you're ordering a quality product at a fantastic price. All items sold through the Open Box program are a great alternative to full priced items and are shipped complete with all parts.
---
About this open-box item:
This The Hoverball is brand-new, unused, the packing was opened for random product inspection purpose only. The packaging and the item are in prefect condition. Enjoy 10% off for this open-box item, only 1 in stock.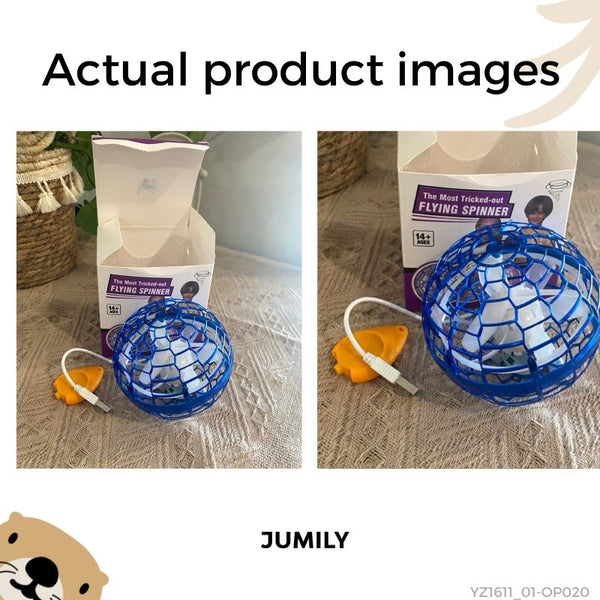 | | | |
| --- | --- | --- |
| | Checkpoints | Product inspection |
| 1 | Packaging | Prefect condition , just opened for inspection |
| 2 | Product  | Perfect condition 99.9% good as new |
| 3 | Accessories | All accessories are complete |
| 4 | Discount | 10% off |
Brand new item available with more style at original price, click here to shop for a brand The Hoverball. 
Safe and good for children! Keep your loved ones entertained and active for hours! The Hoverball trains hand-eye coordination and makes for a fun workout.
Take it with you anywhere:  The Hoverball is small enough to fit in the palm of your hand so you can play with it whenever and wherever - from the beach to the park, to the bedroom.
Durable. The caged orb design protects the Hoverball from trauma caused by bumps, falls, drops, and even collisions, so you can keep the good times spinning!
Below FAQ are some common concerns of our customers before purchasing the items, if you have other questions, please just send it to support@jumily.com
What Shipping Method we use?
We use Yanwen Logistic to ship your package ,depending on your location.
How long will it take to get my package?
Usually, our orders are processed in two steps, in the first step, we will process your order at our warehouse which might be processed on the same business day at our end, however, if your ordered purchased items are pre-order, it may take 5-7 business days.
In the second step: the orders are handed over to our shipping partners. Our shipping times are dependent on where you live in the world, most orders can be shipped within 15-20 business days.
Note: Please note, that due to COVID-19, many shipping companies are prioritizing the shipments and receiving emergency and necessary medical equipment. This could mean that your package may be withheld from the shipping company for an extended period of time which would lead to longer wait times and delays. We hope you understand, as this is something completely out of our control.
Do you Provide Free Shipping?
We provide free shipping to the United States, Canada, Mexico, the United Kingdom, Germany, France, and Australia for all orders above $39.99*! Any order below this amount will be charged a flat rate of $14.99. Please note - Heavy and Fragile items are subject to additional shipping. Charges that are levied on a per-product basis. These items are not eligible for Free Shipping Over $39.99.
How I can Return My Items?
Shopping for your home should be fun, so don't be afraid to mix things up! If an item isn't the perfect match, return it for a refund within 30 days of delivery in the original condition and packaging.
*PLEASE NOTE ALL RETURNS ARE SUBJECT TO A 20% RESTOCKING FEE* You can choose between a refund in store credit or a refund to your original payment method.
We don't cover the cost for return shipping. As soon as we receive the return from you to our warehouse, we will begin to process the return which will take 2-3 business days. Please Contact Us to initiate a return! :)
Return timeframes depend on how soon you are able to ship the products and when we receive them.
For Further information, Please visit our Shipping and Return Policy Page .